Key changes to evidence/clinical practice
Guideline 4: Maternal alcohol consumption can harm the developing fetus or breastfeeding baby

For women who are pregnant or planning a pregnancy, not drinking is the safest option
For women who are breastfeeding, not drinking is the safest option
---
Alcohol consumption during pregnancy
[Click image to enlarge]
[Click image to enlarge]
[Click image to enlarge]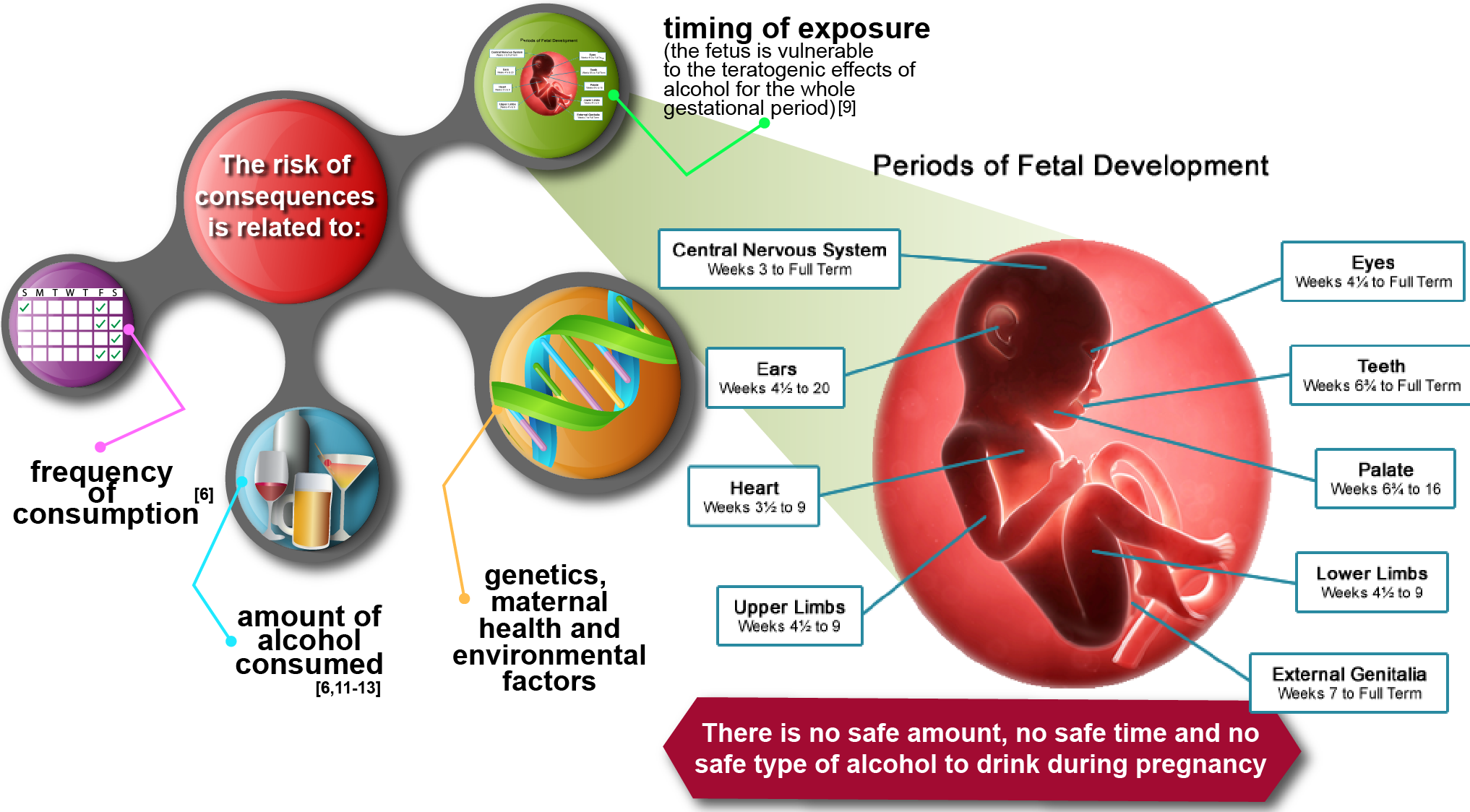 ---
Assessing alcohol consumption
Women want their GP to talk to them about alcohol
The 5As are a useful framework for talking to women about alcohol consumption
Using validated screening tools can determine the risk of alcohol-related harm and what level of support a woman might need[16]
Discussing alcohol use before, during and after pregnancy provides:
multiple opportunities for brief intervention or motivational interviewing to help change behaviour[17-19]
AUDIT-C is recommended for screening pregnant women
AUDIT-C now has the following 4 categories (previously only 3 categories)
A score of 0 on Audit-C means there is no risk of harm to the fetus; positive reinforcement should be provided to the woman to encourage her to continue not to drink alcohol during pregnancy
A score of 1–2 suggests that the woman is drinking at a low risk of harm for her own health but that there is an increased risk to the health of the fetus; education and counselling should be offered to help the woman abstain from alcohol when trying to conceive, during pregnancy and while breastfeeding
Scores of 3–4 indicate that the woman is placing herself and the fetus at medium risk of harm; she should be assessed further and offered appropriate support (including referral if she is alcohol dependent)
Scores of 5+ place the woman and fetus at high risk of harm. The woman needs support to determine appropriate level of assistance to help her stop or cut down drinking. Referral to a specialist service may be required
All women who are pregnant or planning pregnancy, regardless of whether or not they drink alcohol, should be provided with advice that no amount of alcohol is safe.
When presented in an honest, factual and supportive manner the abstinence message is likely to be accepted and persuasive
---
Providing further support
Women who need further support to stop or reduce their alcohol consumption should be:
assessed for their level of motivation to change
offered additional consultations, referred to specialists, allied healthcare providers (eg social worker, psychologist) or support groups as appropriate[16]
To optimise the uptake and effectiveness of additional support measures, GPs should
understand why some women continue to drink during pregnancy[20]
be sensitive to potential barriers[16] for seeking additional support
be aware of and know how to refer to alcohol support services that are available locally
be aware of specialist referral pathways in the relevant geographic location and that psychological care may be required
---
If you would like to do a short case study on this topic, you can enrol in the Alcohol in pregnancy activity on gplearning. Completion of the online activity is worth 2 CPD Activity points.
Both the overview and the associated case study activity were developed with the support of the Foundation for Alcohol Research & Education (FARE).

---
Additional resources
Australian Government Department of Health and Foundation for Alcohol Research and Education
Foundation for Alcohol Research and Education (FARE)
Murdoch Children's Research Institute: Australia cohort study of 1600 women
National Alcohol and Drug Information Service – 1800 250 015
National Health and Medical Research Council
West Australian Government: Alcohol think again
Resources that may be helpful for patients
Leaflets
Websites
Pregnant Pause: a campaign to support women to be alcohol-free during their pregnancy by building a strong support network

National Health and Medical Research Council
Resources for those concerned about FASD
Resources on breastfeeding and alcohol consumption
Feed Safe mobile app

www.feedsafe.net a mobile app that assist breastfeeding mothers make decisions around alcohol consumption
Resources for Aboriginal and Torres Strait Islander peoples
Alcohol think again: West Australian Government
Catholic Care Northern Territory
South Australia Health
Northern Territory
Russell Family Fetal Alcohol Disorders Association
---
References
McLean S, McDougall S. Fetal alcohol spectrum disorders. Child Famility Community Australia 2014.
House of Representatives Committees. FASD: The hidden harm. Inquiry into the prevention, diagnosis and management of Fetal Alcohol Spectrum Disorders. Canberra: Commonwealth of Australia, 2012.
Watkins RE, Elliott EJ, Wilkins A, et al. Recommendations from a consensus development workshop on the diagnosis of fetal alcohol spectrum disorders in Australia. BMC Pediatr 2013;13:156.
Australian Institute of Health and Welfare. National Drug Strategy Household Survey 2016: Detailed findings. Drug Statistics series no.31. Cat. no. PHE 214. Canberra: AIHW, 2017.
France KE, Donovan RJ, Henley N, et al. Promoting abstinence from alcohol during pregnancy: implications from formative research. Subst Use Misuse 2013;48(14):1509-21.
National Health and Medical Research Council. Australian guidelines to reduce health risks from drinking alcohol. Canberra: Commonwealth of Australia, 2009.
The Royal Australian College of General Practitioners. Guidelines for preventive activities in general practice. 9th edn. East Melbourne, Vic: RACGP, 2016.
Burd L, Blair J, Dropps K. Prenatal alcohol exposure, blood alcohol concentrations and alcohol elimination rates for the mother, fetus and newborn. J Perinatol 2012;32(9):652-9.
O'Leary CM. Fetal alcohol syndrome: diagnosis, epidemiology, and developmental outcomes. J Paediatr Child Health 2004;40(1-2):2-7.
Patra J, Bakker R, Irving H, et al. Dose-response relationship between alcohol consumption before and during pregnancy and the risks of low birthweight, preterm birth and small for gestational age (SGA)-a systematic review and meta-analyses. BJOG 2011;118(12):1411-21.
O'Leary CM, Nassar N, Kurinczuk JJ, Bower C. The effect of maternal alcohol consumption on fetal growth and preterm birth. BJOG 2009;116(3):390-400.
Henderson J, Gray R, Brocklehurst P. Systematic review of effects of low-moderate prenatal alcohol exposure on pregnancy outcome. BJOG 2007;114(3):243-52.
Das S, Rao V, Chaudhuri JD. Preconception counseling in the prevention of fetal alcohol syndrome: a unique window of opportunity. Clin Ter 2009;160(4):315-22.
Peadon E, Payne J, Henley N, et al. Women's knowledge and attitudes regarding alcohol consumption in pregnancy: a national survey. BMC Public Health 2010;10:510.
Colvin L, Payne J, Parsons D, Kurinczuk JJ, Bower C. Alcohol consumption during pregnancy in nonindigenous west Australian women. Alcohol Clin Exp Res 2007;31(2):276-84.
Burns L, Breen C. It's time to have the conversation: Understanding the treatment needs of women who are pregnant and alcohol dependent. Sydney: National Drug and Alcohol Research Centre, University of Sydney, 2013.
Brennan C, Newton M, Wood F, et al. Training general practitioners in remote Western Australia in a method of screening and brief intervention for harmful alcohol use: a pilot study. Aust J Rural Health 2013;21(2):72-9.
Kaner EF, Dickinson HO, Beyer F, et al. The effectiveness of brief alcohol interventions in primary care settings: a systematic review. Drug Alcohol Rev 2009;28(3):301-23.
Korcha RA, Polcin DL, Evans K, Bond JC, Galloway GP. Intensive Motivational Interviewing for Women with Alcohol Problems. Counselor (Deerfield Beach) 2015;16(3):62-9.
Healthy Child Manitoba. Why do girls and women drink alcohol during pregnancy: Information for service providers Manitoba, Canada: Healthy Child Manitoba. [accessed]
Flaxman SM, Sherman PW. Morning sickness: a mechanism for protecting mother and embryo. Q Rev Biol 2000;75(2):113-48.
Refuerzo J, Smith J, Ramin S. Clinical features and evaluation of nausea and vomiting of pregnancy. UpToDate. 2017. [Accessed 9 November 2017].
The Royal Australian and New Zealand College of Obstetricians and Gynaecologists. Alcohol in Pregnancy 2008, reviewed in 2014. [Accessed 11 December 2017]
Chang G. Alcohol intake and pregnancy. UpToDate. 2017. [Accessed 23 October 2017].