What is Buruli ulcer?
Buruli ulcer* (BU):
Is an uncommon infection of skin and soft tissue caused by Mycobacterium ulcerans (M. ulcerans), which is only acquired in specific geographical areas.[10,13]
Can occur in visitors who may spend less than a day in an endemic area.[14] Therefore, all Australian GPs need to be aware of the condition and the current areas where BU occurs.[18]
Causes destruction of skin and soft tissues through production of a locally active toxin.[20]
Can mimic other more common conditions, resulting in diagnostic challenges and delay. This in turn can lead to significant adverse outcomes, including severe and disfiguring disease.
*also called 'Bairnsdale ulcer' in Victoria and 'Daintree ulcer' in north Queensland.
---
Who is at risk?
[Click image to enlarge]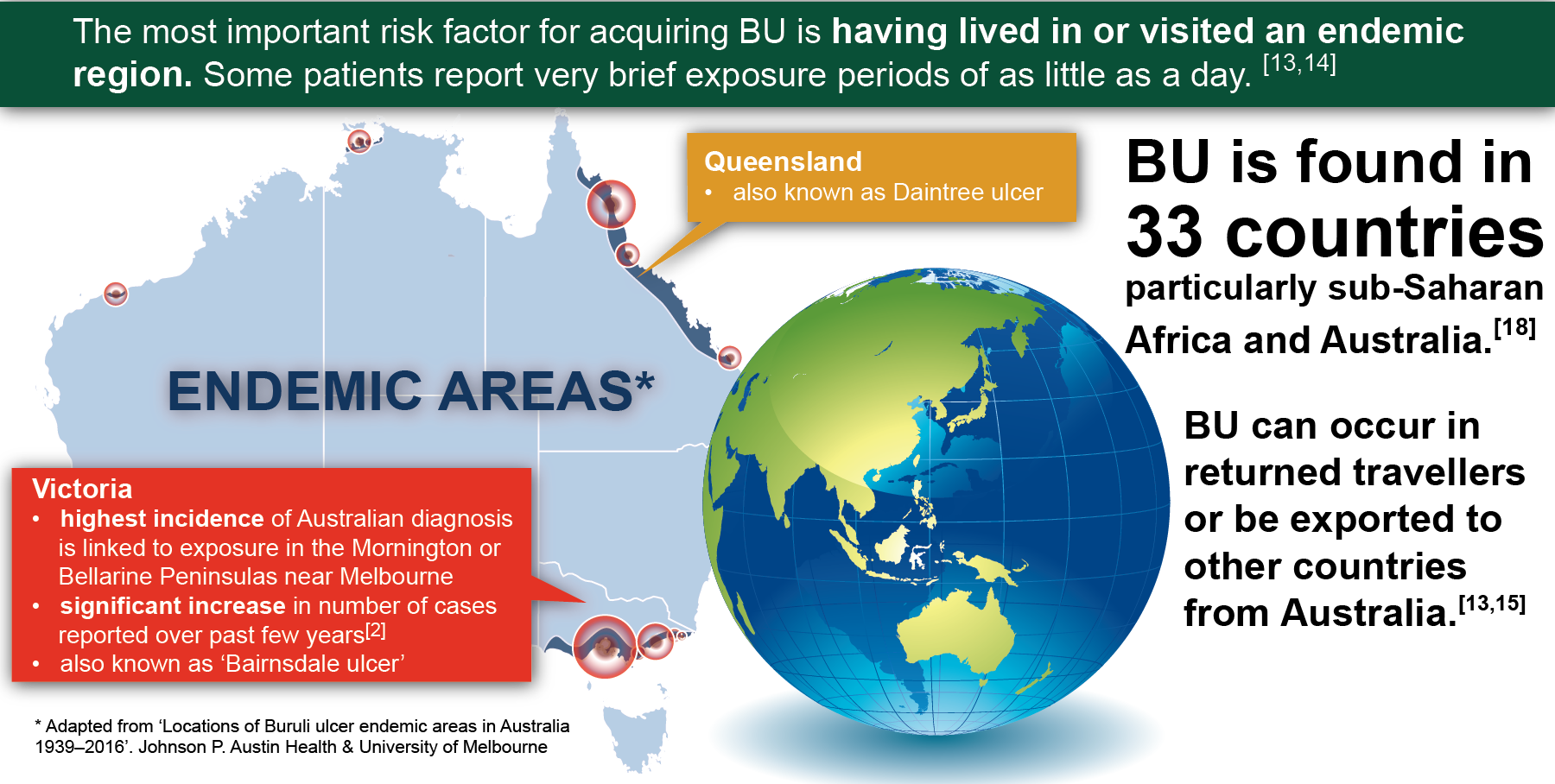 ---
The diagnostic challenge — how to distinguish BU from other skin ulcers
The commonest causes of chronic skin ulcers in Australia are vascular in origin (including diabetes) and usually have well identified causative intrinsic and extrinsic factors.
Detecting BU during a clinical assessment of chronic skin ulcers
Some general principles for distinguishing BU from other clinical presentations are outlined below.
---
Investigations
Investigations to confirm diagnosis are not routinely performed in pathology laboratories unless BU is specified on the request form.
The gold standard test for M. ulcerans is polymerase chain reaction (PCR),performed on swabs taken from the undermined edge of an ulcer.Acid fast bacilli are frequently also visible by microscopy if the correct stains are requested. M. ulcerans can be cultured on special media but may take 8–12 weeks to grow.
Suitable diagnostic samples for PCR (and smear and culture) include a swab run around the undermined edge of the ulcer, or for non-ulcer presentations such as plaques, cellulitis or oedema, fine-needle aspiration, incisional, excisional or punch biopsy specimens.[9,20]
Histology specimens are strongly suggestiveof the correct diagnosis particularly if the examining pathologist is aware you are considering BU.
PCR for M. ulcerans can also be performed on fresh tissue from biopsies.
Treatment
Treatment is not straightforward, involvement of an experienced specialist is recommended.
Buruli ulcer is always curable and the aim of treatment is to achieve cure with minimal cosmetic and functional deformity.
Many patients are now managed medically with an 8-week course of rifampicin combined with clarithromycin [9] and may not require surgery.
Conservative surgery still has a role in selected cases to assist healing and to close large defects.[9]
Primary excision alone without antibiotics can but curative but the risk of relapse is reduced if antibiotics are also prescribed.
Frequent visits for dressing changes, clinical support, pain relief and prevention of disability with physical therapy are important components of treatment in more severe cases.
Notification
BU is a Category B legally notifiable infection in Victoria (Category B – within 5 days – presumptive of confirmed).[3]
Prevention
BU does not spread from person to person.[11] In Victoria, there is evidence that it may be mosquito borne, possibly from possum reservoirs.[4,7,15,16,21]
Advice from the Victorian Department of Health and Human Services on prevention:
Wear gardening gloves, long-sleeved shirts and trousers when working outdoors.
Avoid insect bites by using suitable clothing and insect repellents.
Protect cuts or abrasions with sticking plasters.
Promptly wash and cover any scratches or cuts you receive while working outdoors.
See your doctor if you have a slow-healing skin lesion.
---
Where to refer
Victoria – public hospital clinics
Queensland
Department of Infectious Diseases Cairns Hospital
Department of Surgery, Cairns Hospital
For rural GPs, recommend telehealth consultation with:
---
Recommended reading
---
If you would like to do a short case study on this topic, you can enrol in the Identifying and managing Buruli ulcer activity on gplearning. Completion of the online activity is worth 2 CPD Activity points.
---
Additional resources
---
References
Brown SC. Buruli ulcer clinical presentation. Emedicine. 2017.
Department of Health & Human Services, Victoria. Cutaneous Mycobacterium ulcerans infection. 2017.
Department of Health & Human Services, Victoria. Notifications procedures for infectious diseases. 2017.
Fyfe JA, Lavender CJ, Handasyde KA et al. A major role for mammals in the ecology of Mycobacterium ulcerans. PLoS Negl Trop Dis. 2010; 48:e791.
Friedman ND, Athans E, Walton AL, O'Brien DP. Increasing experience with primary oral medical therapy for Mycobacterium ulcerans disease in an Australian cohort. Antimicrob Agents Chemother 2016; 60: 2692–2695.
George K, Pascopella L, Welty D, Small P. A Mycobacterium ulcerans toxin, mycolactone, causes apoptosis in guinea pig ulcers and tissue culture cells. Infect Immun. 2000; 68: 877–883.
Johnson PD, Azuolas J, Lavender CJ et al. Mycobacterium ulcerans in mosquitoes captured during outbreak of Buruli ulcer, South Eastern Australia. Emerging infectious diseases. 2007; 13:1653-60.
Loftus et al. 2017, manuscript under review.
O'Brien DP, Jenkin G, Buntine J et al. Treatment and prevention of Mycobacterium ulcerans infection (Buruli ulcer) in Australia: guideline update. Med J Aust, 2014; 200:267–270.
O'Brien DP, Robson ME, Callan PP, McDonald AH. "Paradoxical" immune- mediated reactions to Mycobacterium ulcerans during antibiotic treatment: a result of treatment success, not failure.Med J Aust 2009; 191: 564–566.
O'Brien DP, Wynne JW, Buultjens AH et al. Exposure Risk for Infection and Lack of Human-to-Human Transmission of Mycobacterium ulcerans Disease, Australia. Emerging Infectious Diseases 2017; 23: 837–40.
Phillips R, Horsefield C, Kuijper S et al. Sensitivity of PCR targeting the IS2404 insertion sequence of Mycobacterium ulcerans in an assay using punch biopsy specimens for diagnosis of Buruli ulcer. J Clin Microbiol 2005; 43: 3650–56.
Thomas BS, Bailey TC, Bhatnagar J et al. Mycobacterium ulcerans Infection Imported from Australia to Missouri, USA, 2012. Emerg Infect Dis 2014; 20: 1876–1879.
Trubiano JA, Lavender CJ, Fyfe JAM et al. The incubation period of Buruli ulcer. PLoS Neglected Tropical Diseases, 2013; 7: p. e2463.
Quek TYJ, Athan E, Henry MJ et al. Risk Factors for Mycobacterium ulcerans Infection, South Eastern Australia. Emerg Infect Dis. 2007; 13(11): 1661–1666.
Wallace JR, Mangas KM, Porter JL et al. Mycobacterium ulcerans low infectious dose and mechanical transmission support insect bites and puncturing injuries in the spread of Buruli ulcer. PLoS Negl Trop Dis. 2017; 11:e0005553.
World Health Organisation (WHO). Buruli ulcer. 2018.
World Health Organisation (WHO). Buruli ulcer – Epidemiology. 2018.
World Health Organisation. Laboratory diagnosis of buruli ulcer: A manual for healthcare providers. 2014.
World Health Organisation (WHO). Treatment of Mycobacterium Ulcerans Disease (Buruli ulcer): Guidance for Health Workers. 2012.

Yerramilli A, Tay EL, Stewardson AJ et al.

 The location of Australian Buruli ulcer lesions—Implications for unravelling disease transmission. PLoS Neglected Tropical Diseases, 2017; 11: e0005800.